Gary Marsden – Director and Principle Tree Consultant: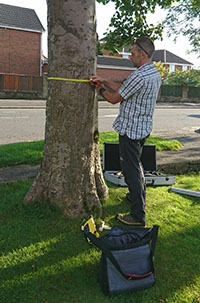 I started my arboricultural career in 1997 when I trained at Myerscough College as a climbing arborist undertaking the practical aspects of tree work including aerial tree pruning from a rope and harness, dismantling operations, felling, stump grinding and replacement tree planting. After leaving college, I proceeded to work within the industry as a climber and Team Leader.
I returned to Myerscough College, whilst still working, to further my academic qualifications and gained my Foundation Degree in 2005.
I worked within a Local Authority as a Tree Officer managing the council's tree stock, undertaking inspections and surveys and allocating work to the tree gangs to undertake. Part of my role was to develop tree management policies and strategies and liaise with councillors and the public on tree related matters.
I started GM Tree Consultants in 2008 undertaking tree surveys and inspections and providing detailed reports that are used in planning applications, requested works to TPO trees and the management of trees in relation to health and safety. In November 2021 GM Tree Consultants became a Limited Company.
Continued Personal Development (CPD) ensures that I kept up to date with current best practice, techniques and advances within the industry.
I am a professional member of both the Arboricultural Association www.trees.org.uk and the Consulting Arborist Society http://www.tree-expert-finder.co.uk/ . These give me access to specialist training courses, reference material and communication throughout the arboricultural industry.